Frontier Energy is the world's first publication, eNewsletter and website to focus on the oil & gas and shipping operations in the Arctic and other environmentally challenging and harsh, ice-affected regions. These are among the industry's most environmentally sensitive, challenging and remote areas to be involved with, pushing at the boundaries of technology and human resourcefulness.

News

Subscribe to our FREE, weekly eNewsletter – exclusive news and comment straight to your in box!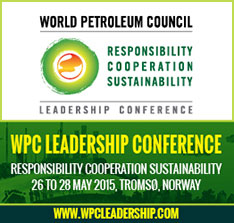 ATC 2015
March 23 - 25, 2015
Bella Center, Copenhagen
The Arctic Technology Conference is an Arctic-focused expansion of the Offshore Technology Conference (OTC), the world's foremost event for the development of offshore resources in the fields of drilling, exploration, production and environmental protection. 2015 discussion topics will include Arctic Core Capabilities, Arctic Trailblazers, Arctic Past Projects and Global Arctic Market Outlook - Pushing the Frontier. www.arctictechnologyconference.org
Arctic Council Ministerial Meeting
April 24 - 25, 2015
Iqaluit, Nunavut
The meeting will bring together ministers of the Arctic states and high-level representatives of the Indigenous Permanent Participant organisations to set the Council's objectives for the coming two years and highlight achievements during Canada's 2013-2015 chairmanship of the Council, before handover to the US.