Frontier Energy is the world's first publication, eNewsletter and website to focus on the oil & gas and shipping operations in the Arctic and other environmentally challenging and harsh, ice-affected regions. These are among the industry's most environmentally sensitive, challenging and remote areas to be involved with, pushing at the boundaries of technology and human resourcefulness.

News

Subscribe to our FREE, weekly eNewsletter – exclusive news and comment straight to your in box!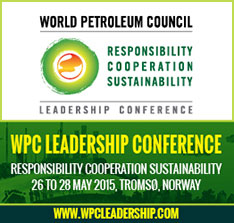 Arctic Oil & Gas North America
April 14-15, 2015
Delta Hotel, St.John's, Newfoundland, Canada
Arctic Oil & Gas North America Conference 2015: developing innovative solutions to overcome unique technical and environmental challenges in the Arctic. A combination of industry driven discussion sessions and innovative technology-led presentations.
Arctic Science Week Summit
April 23-30, 2015
Toyama, Japan
The annual gathering of scientists, students, policy makers and researchers engaged in Arctic research.
Arctic Council Ministerial Meeting
April 24 - 25, 2015
Iqaluit, Nunavut
The meeting will bring together ministers of the Arctic states and high-level representatives of the Indigenous Permanent Participant organisations to set the Council's objectives for the coming two years and highlight achievements during Canada's 2013-2015 chairmanship of the Council, before handover to the US.
Offshore Technology Conference
May 4-7, 2015
Houston, USA
The industry's foremost offshore event for the development of offshore resources in the fields of drilling, exploration, production and environmental protection, a great place to gain technical knowledge and make valuable contacts.
WPC Leadership Conference
May 25-28, 2015
Tromsø, Norway
The World Petroleum Council (WPC) is pleased to present the first WPC Leadership Conference on Responsibility, Cooperation and Sustainability, to be held in Norway in 2015. This event will bring together industry leaders to discuss and demonstrate best available technology and practices to minimize impacts and risks to people and environments. By highlighting the industry's strategies in places such as the Arctic and other frontier areas we can contribute to raising the standards across the sector.
www.wpcleadership.com
NOIA Conference 2015
June15-18, 2015
St. John's, Newfoundland, Canada
NOIA (Newfoundland & LabradorOil & Gas Industries Association) is Canada's largest offshore petroleum association with more than 600 members in Atlantic Canada and around the world. The annual NOIA conference provides delegates with the latestinformation on trends, new technologyand business opportunities in the East Coast Canada oil & gas industry.